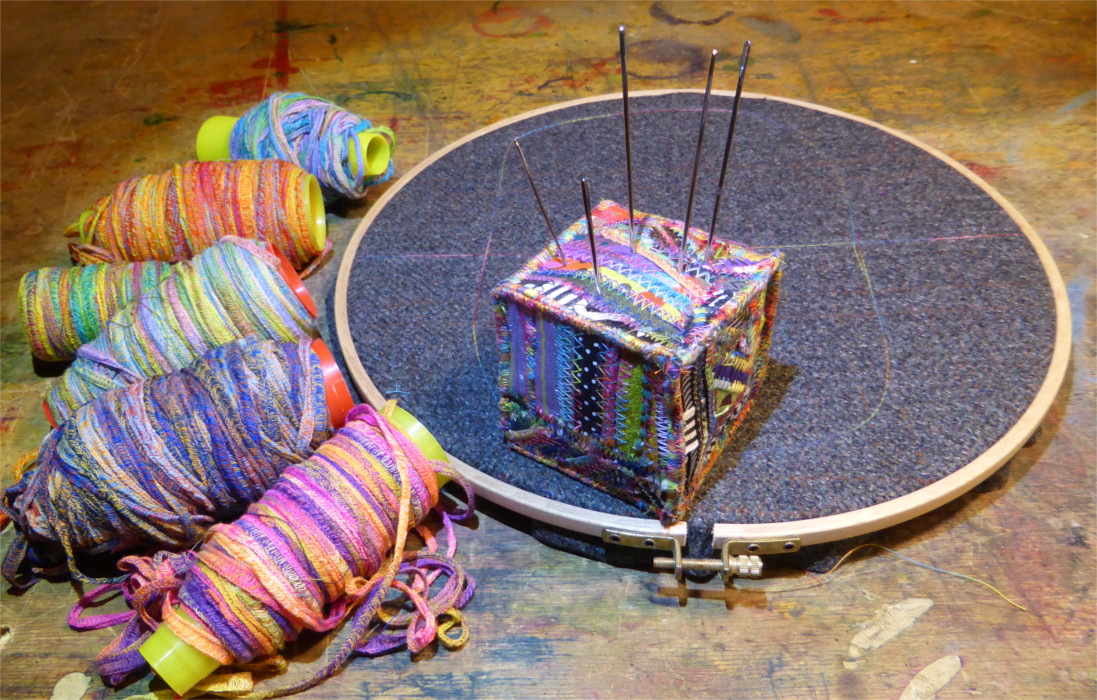 So, feeling smug that I had completed a year's worth of Made On Monday, and even been awarded a certificate for it which you can see here, I decided to embark upon another year long project. "1 Year of Stitches" involves doing at least one embroidery stitch every day for a year. You can read about it here: http://www.brwnpaperbag.com/1-year-of-stitches-2017/.
I have never really enjoyed handstitching, I had a bad time at primary school with a really nasty teacher who used to hit me on the back of the hand with a ruler if I dropped knitting stitches or made messy French Knots (more of which later). I have dabbled in it on my customised clothing, but really only for comedy effect, nothing serious. I decided to give it a go anyway, after all, just 1 stitch a day can't be that traumatic. One thing I know, though, was that I cannot be doing with delicate embroidery floss in pastel colours. Gives me the shudders. So I gathered some of the fancy yarns and variegated threads that I already had, and stretched some thick, dark woollen fabric over an embroidery hoop.
I decided to do my stitching in the shape of a pocket, so that if it was any good I could use it on one of my customised jackets. I didn't really think it would be, and anyway it would probably take me all year to finish it. Turns out I was wrong about that. These are my very first stitches ….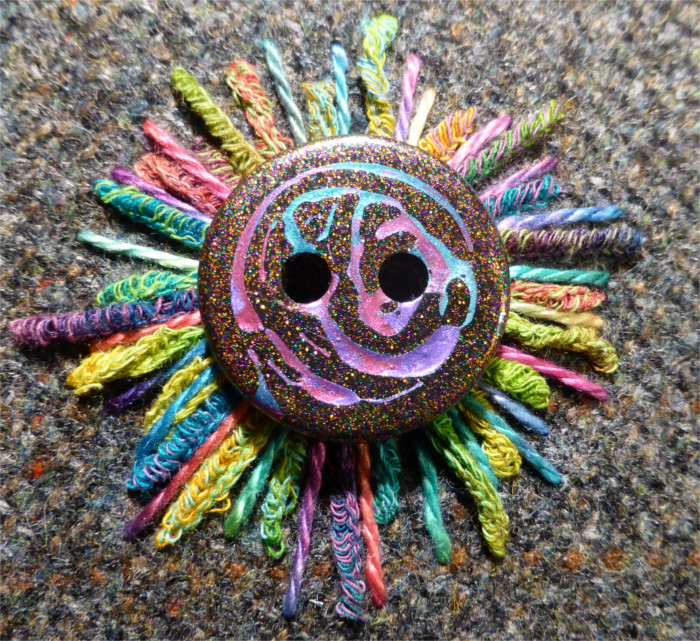 …. and with them I felt a frisson of excitement and a feeling of satisfaction that I did not expect. The second night I had been to a neighbours for a belated New Years celebration, and got home after Midnight a wee bit tipsy, and all I wanted to do was stitch, stitch , stitch! Next day as I soberly surveyed my wonky drunken stitches I realised I was hooked. Rather than the year I though it would take I had finished my first pocket shaped hoop within a week. I used it on this jacket, and also did some handstitching for the button area and the cuffs.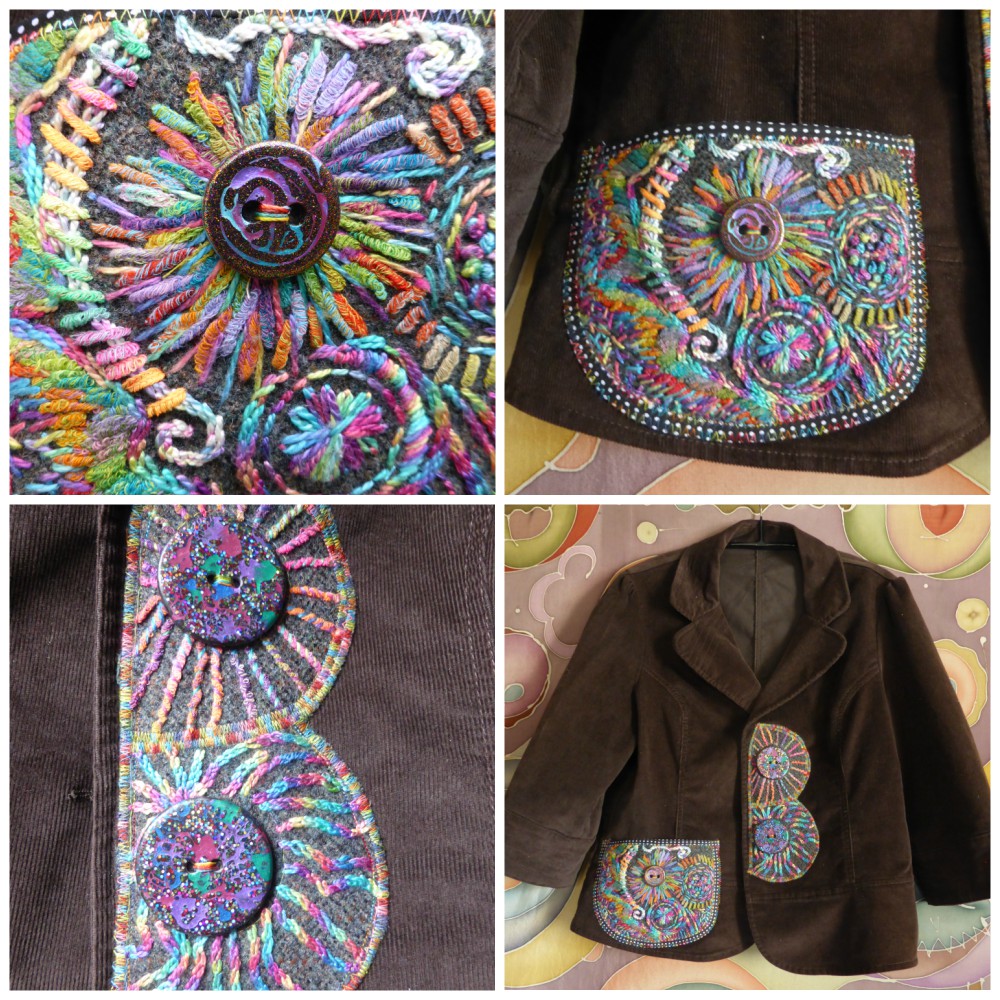 I was ready for a new hoop in week 2 and this time I used a piece of curtain fabric with a circle design on it. I handstitched pieces for the back, the pocket and the buttons. I then machine-stitched over my handstitching to make it more durable.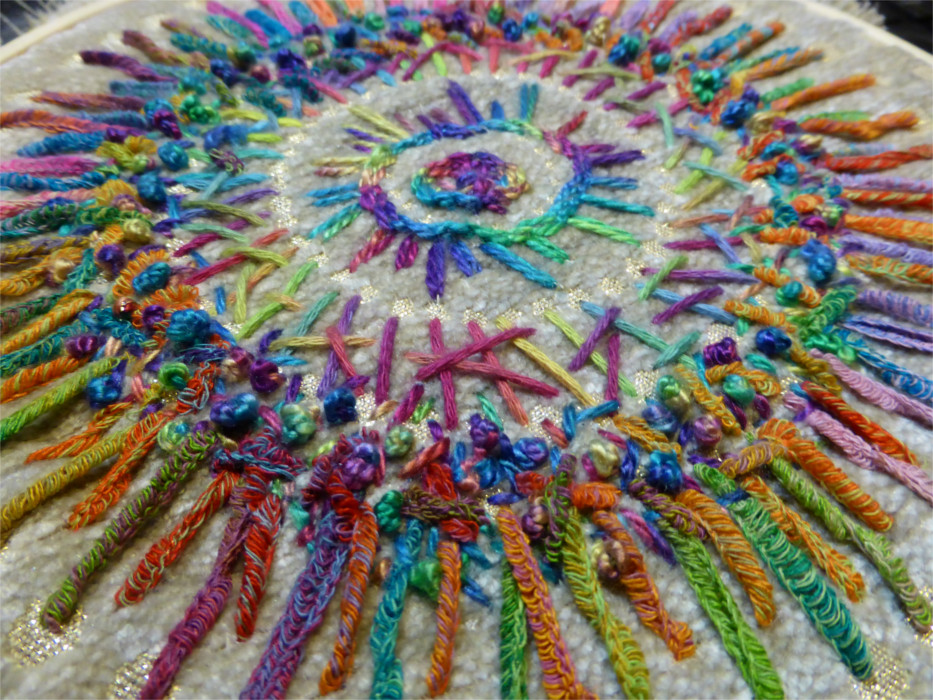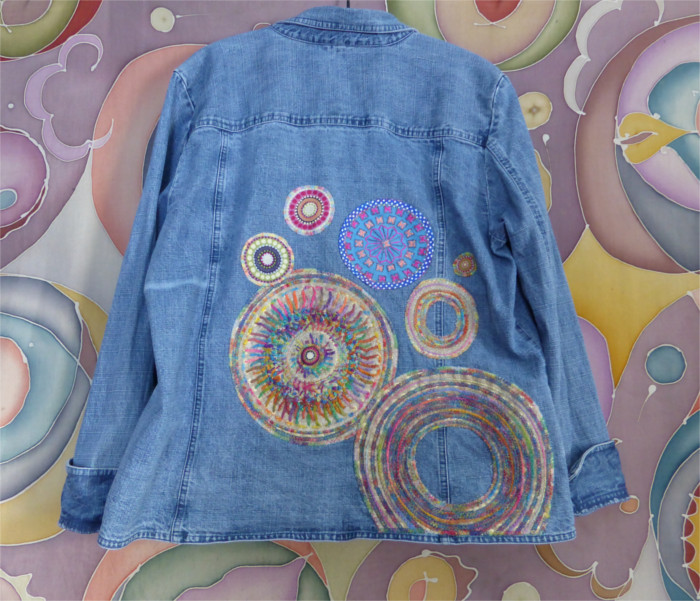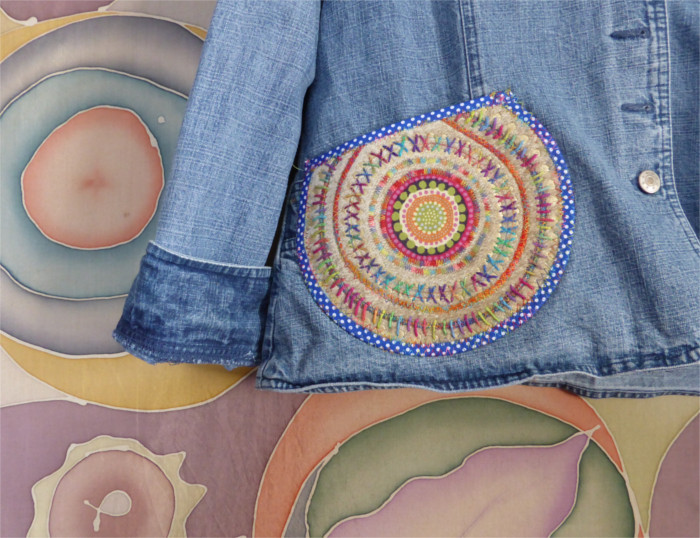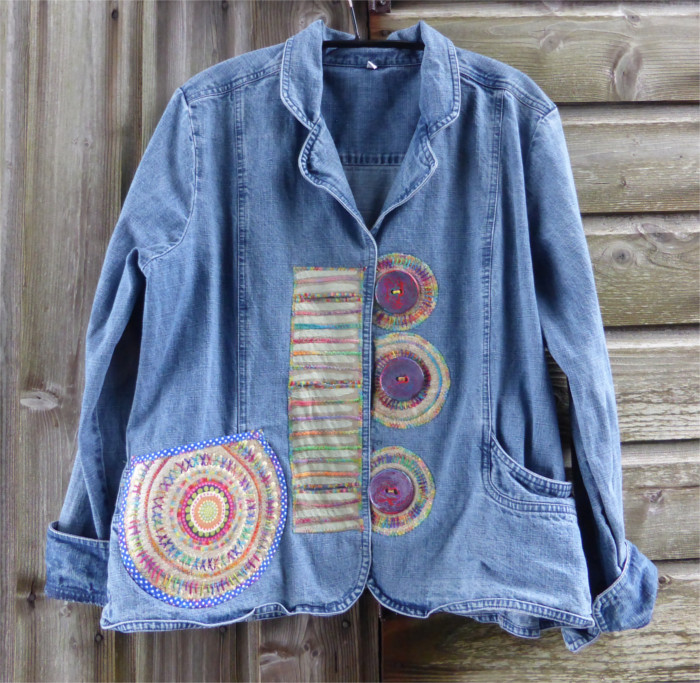 For week 3 I decided to not make something that would go on a jacket,and this allowed me to use longer less secure stitches. Again I used curtain fabric, and used the design as a guide, I picked out a heart shape, and made a hanging heart from it.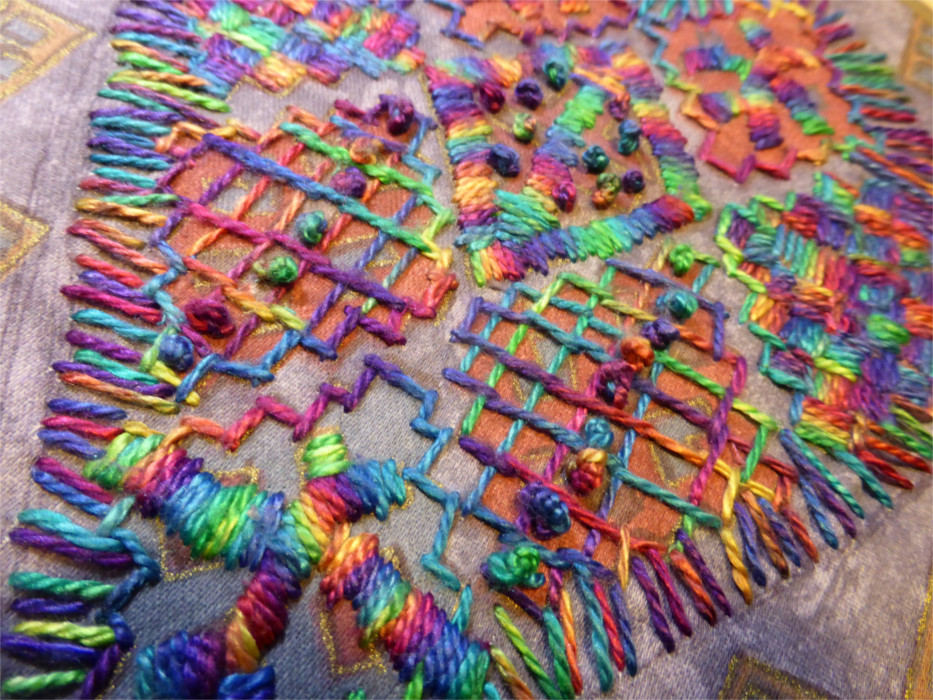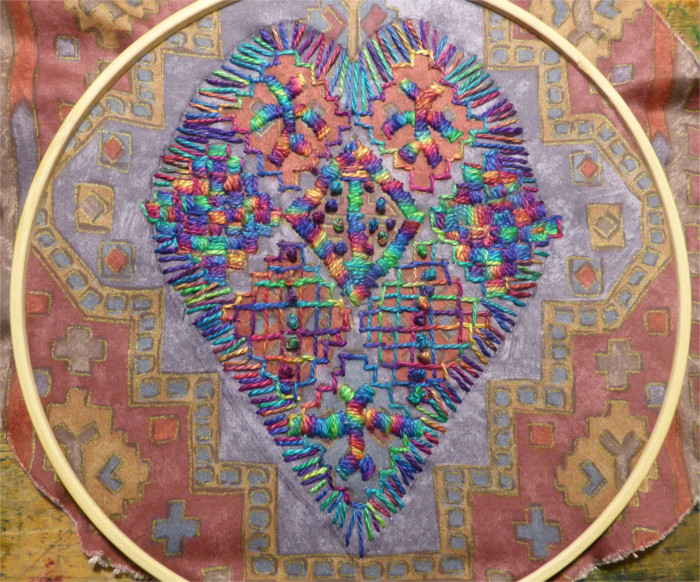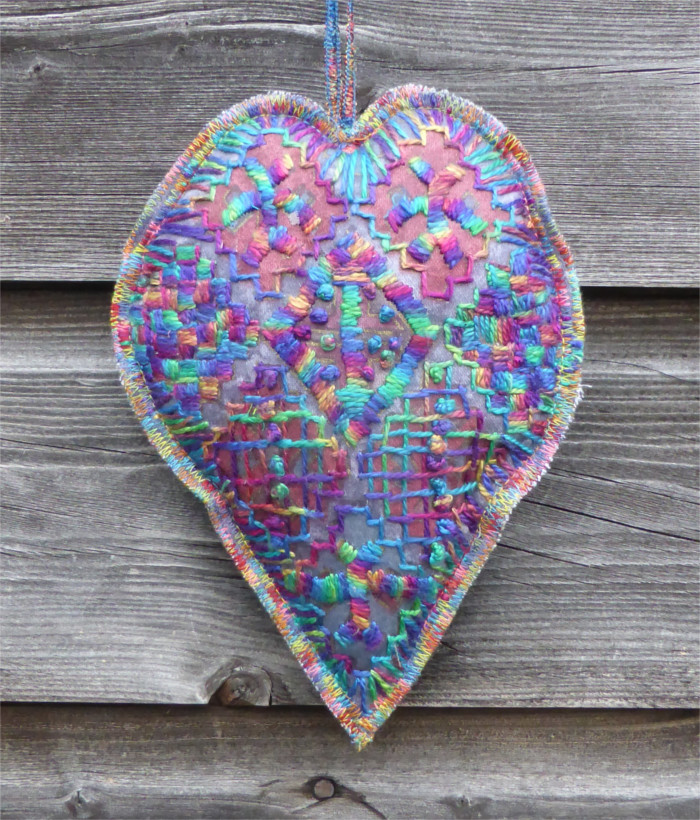 For my next hoop I used a piece of hand dyed cotton fabric by Sue Trevor, one of my favourite textile artists. You can see her work here.
I had by this time acrued quite a selection of threads, most of them from Stephs Crafty Bits . I know my New Year's Resolution was to not buy any more textile supplies, but I have to admit I am now addicted to hand dyed variegated thread. There is no cure, so don't bother me with your helpful suggestions.
I was becoming more adventurous with my stitching, but it was all just variations on the few stitches I remembered from school, straight stitch, chain stitch and French Knots, the messy ones that used to get my knuckles rapped. I realised that if I was going to be doing this for a year, maybe I should learn some more stitches, and I came across a website where I could do just that. It's called "Take a Stitch Tuesday" and shows a different stitch each week, and has a stitch dictionary as well. I've got a lot of catching up to do, so I can't be hanging around waiting for Tuesdays, I'm learning a new stitch every day, sometimes more. I finished this hoop ….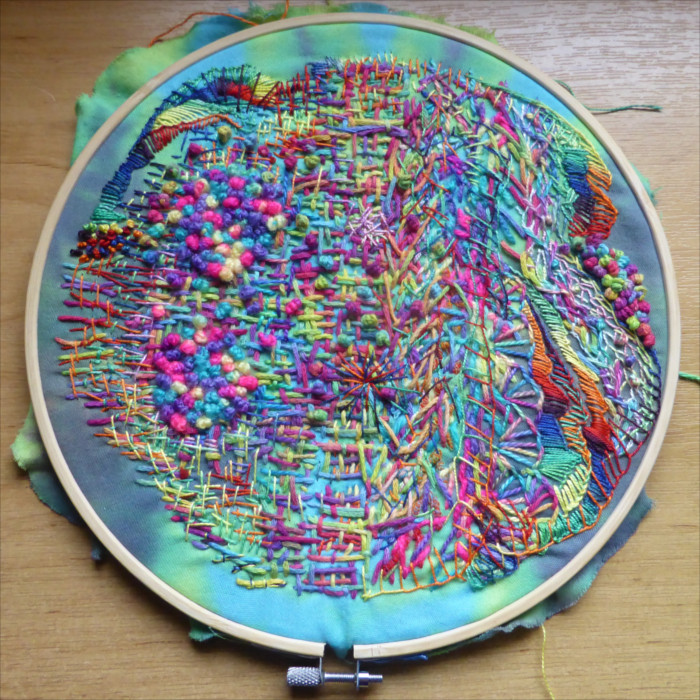 …. and (cue the music from the shower scene in Psycho) cut it up to make a hanging heart.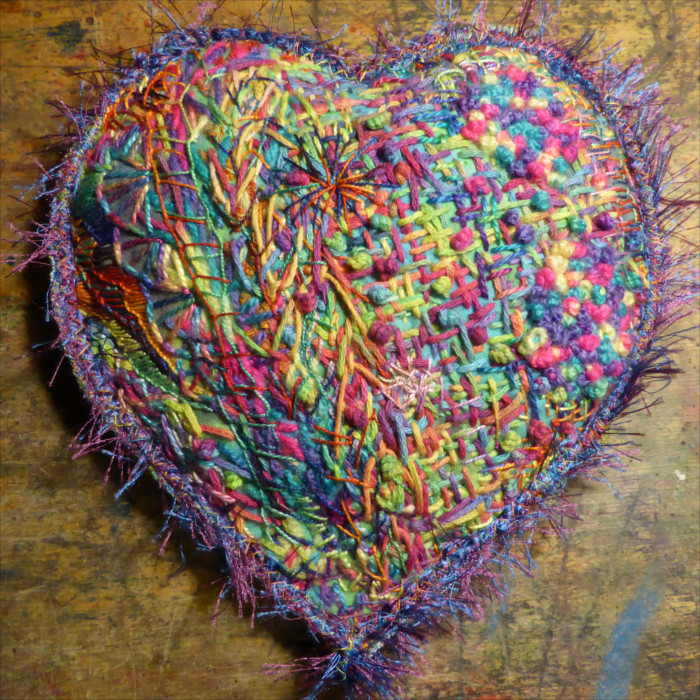 I've kept the bits I trimmed, and will add them to future hoops.
And by the way, it turns out I AM BRILLIANT at French Knots, I could represent Scotland at the Stitching Olympics in the French Knot category. Well, maybe the Highlands of Scotland. And only if the Womens Rural Institute are still banned.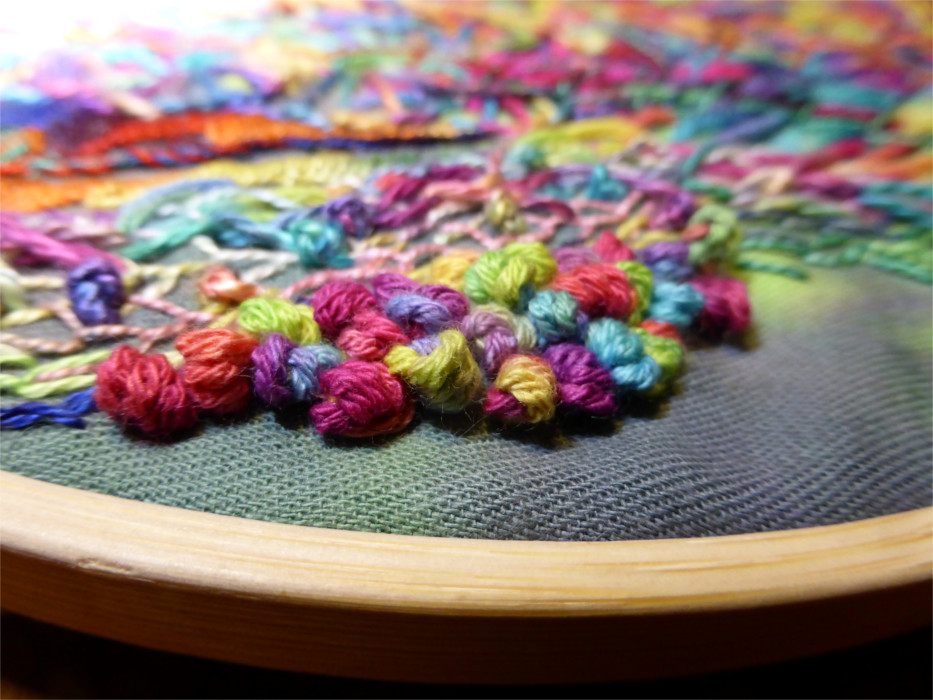 Take that , horrible teacher.!